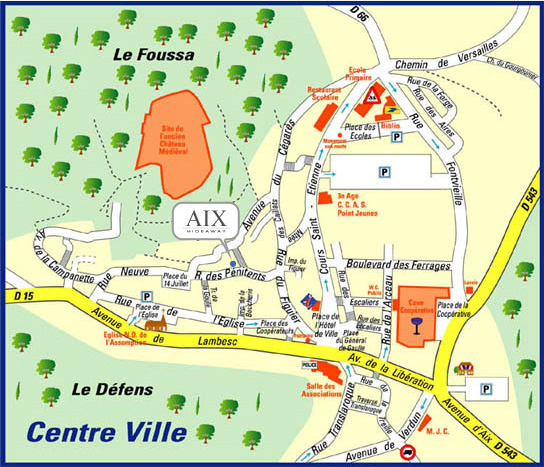 Rognes is a small village, approximately 20 km from Aix en Provence. At 300 meters above sea level, surrounded by hills and oak forests, a charming village with old stone houses with red painted shutters, green, gray. Narrow streets that rise to the Foussa with its ruins and traces of cave dwellings, one is in love!
History
The origin of the village dates back to the stone-age and it was built on the slopes of the Foussa (the name of the hill).
It was built, destroyed and rebuilt several times over the centuries until the terrible day in 1909 when it was almost totally destroyed by an earthquake, and later abandoned.
Rognes today
Today the village is peacefully nestled at the foot of the Rognes hill and you can even see some of the original streets and houses which escaped the disaster.
The main industry in Rognes has always been agriculture with the vineyards producing the AOC "Coteaux d'Aix"wine which has an excellent reputation.
The cultivation of the truffle has been honoured for some years by a fair held in December.
Pierre de Rognes
Rognes is equally well-known for the quality of its stone which has been extracted from open-cast quarries for more than 20 centuries. This same stone has become highly fashionable today and is often seen gracing interior design magazines or in renovated residences, town-houses or prestigious properties in Aix-en-Provence… the "pierre de Rognes" is much sought-after!… The table of our breakfast terrace is made of "pierre de Rognes" as are the pillars and bench in the garden.
Wine and more
Famous for its wine, truffles and stone, you will also be enchanted by the surrounding countryside.
Large fields, carefully cultivated or left to grow wild, small modest dwellings or beautiful bourgeois residences… you will have the impression that nothing has changed here for centuries and that the tranquil life-style has always reigned.